Chattermill was placed amongst best Analytics Software according to customer feedback collected by G2.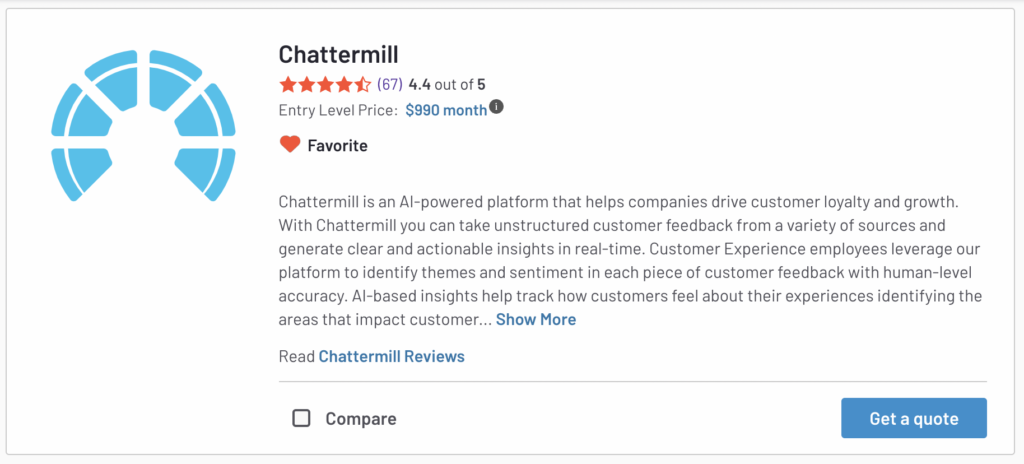 Feedback analytics software enables businesses to consolidate and analyze their customer feedback within a single platform. This type of software leverages the capabilities of natural language processing (NLP) software to extract actionable insights from unstructured text data, which can be sourced from a variety of different feedback channels, such as review sites, social media, surveys, and customer service tools. Feedback analytics software helps businesses analyze customer sentiment and uncover trends or patterns, empowering them to take action on feedback and improve customer experience (CX).
Feedback analytics solutions allow users to import feedback through integrations with survey software, social media, and customer service software such as help desk software, live chat software, and enterprise feedback management software. All-in-one feedback analytics solutions offer these integrations in addition to built-in survey capabilities for soliciting customer feedback or reviews. Businesses may also use text analysis software for analyzing other types of unstructured text data; however, feedback analytics software is designed specifically for extracting insights from customer feedback.
To qualify for inclusion in the Feedback Analytics category, a product must:
Centralize customer feedback collected from multiple sources and channels
Use NLP to extract insights from text feedback, including key phrases, sentiment, and trends
Provide dashboards and visualizations for text data
Integrate with review sites, survey tools, or help desks through which users can source customer feedback.
G2 scores products and vendors based on reviews gathered from user community, as well as data aggregated from online sources and social networks.
Please refer to Chattermill reviews page at G2