Silicone Luxembourg in partnership with Luxembourg Private Equity and Venture Capita/ Association (LPEA) has just launched their VC Guide and included 2be.lu Investments Fund in their list.
"The Venture Capital ("VC") sector plays a key role in the Luxembourg investment ecosystem. It is the bridge between the often-distant world of finance and the "new" economy. Above all, it is critical to the growth of start-ups next to other important funding sources.
The number of Venture Capital firms ("VCs") operating from Luxembourg has dramatically increased over the recent years and it is nowadays more complicated to navigate and target the right VCs. In parallel, VCs are very busy and want to be approached by start-ups which match their main investment strategy. We are convinced that the market was in need of a VC Guide and therefore decided to partner up with Silicon Luxembourg to execute this project and deliver this constructive industry effort. The guide you have in front of you is the outcome of an extensive mapping exercise and may be incomplete in a few months since we expect more VCs to join the country. Many VCs come to Luxembourg to setup the best fund structure, few can anticipate they will find some of their best deals too.", says Luis Galveias, COO of the Luxembourg Private Equity and Venture Capita/ Association (LPEA).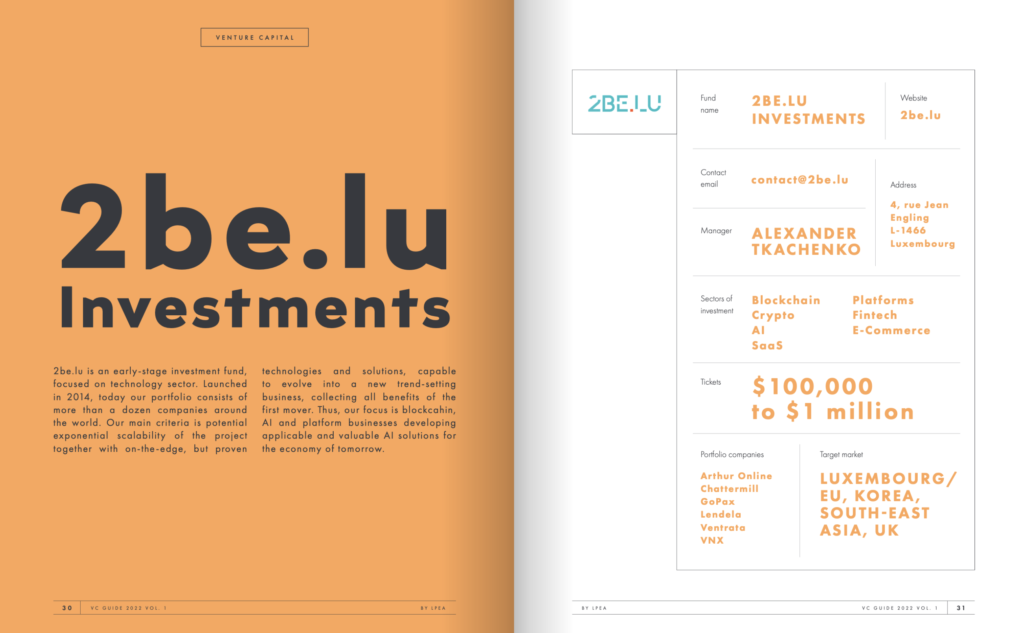 To see the full guide please visit Silicone Luxembourg web-site.